We made it out at a not-so-bright-and-early-hour to head to The Grounds of Alexandria! I think the Grounds is certainly up-there when it comes to the most Instagrammable places in Sydney. It's a roastery, research facility, cafe, potting shed and petting zoo all in an old pie factory. It makes you feel like you're in the countryside, for it is incredibly rustic and it's got a whimsical air to it. Definitely one of the most charming places I've ever been to.
(Can you spot the parrot in the top-right picture!) (And yes, that is a pig in the middle picture on the top row)
Everything here is oh so BEAUTIFUL. After wandering around the Grounds while waiting for a table, we got to sit in their cafe and try their amazing food! Which looks just as beautiful, really - the plating was gorgeous! It felt like a part of someone's garden on my plate, and I'll bet this garden was theirs. You see, freshness is the name of the game here, where ingredients are either locally-grown and sustainably sourced and breads and pastries baked in-house - all part of their "paddock-to-plate" philosophy. It's something I do appreciate, and feel like I should care about a bit more in my daily life - where my food comes from, supporting local growers, and whatnot.
The banana bread is a little on the dry side (possibly due to its' massive size), but the honey mascarpone saved the day. Thinking about it right now is making me crave it more than I already am - I miss it, everyday - it just paired so well with the bread. If you look close enough, you'll also see specks of vanilla beans in the cheese, giving it added depth of flavour. It's SO huge though. I could only finish half of what you see in the picture.
And of course, not forgetting the coffee! I had my usual (or well, it's becoming a usual as of late) flat white, which was a good accompaniment on a cold winter morning. Granted, it wasn't very cold but still! It made for a nice contrast.
It might have been the weather (the sun casts a lovely glow over this place, yet the temperature was at about 17 degrees or so), the brick walls or the food that satisfied my hungry tummy, but either way, I'll certainly be back when I do return to Sydney. A lot of care must have gone into the development of this place and I'm glad that I got to experience it for myself, because that's what I felt this morning was. It was so much more than just a(nother) cafe, it was an experience, and a very good one at that. It's a wonderful concept, and a great use of space.
The Grounds of Alexandria
Building 7A, 2 Huntley Street
Alexandria, NSW 2015
Hours:
Mon-Fri: 7am-4pm
Sat-Sun: 7:30am-4pm
We rented a car for the day, so we drove to Taronga Zoo after our brunch. You can also get there by taking a ferry from Circular Quay, though I heard it is rather expensive. You do get a lovely view of the city, however. The entry fee was $46, but I felt that it was so much more worth it than the Sea Life Aquarium! I like the open-air concept of the zoo and how the animals are kept in pretty open areas - in the sense that there is very little between us and them. I think they could escape at any time if they wanted to, really. Also, the range of animals that you get to see is pretty wide, so there's a lot more value there as well.
The Taronga Zoo is split into 8 sections, and we covered it moving in an anti-clockwise direction. We gave the reptile section a miss though, we weren't too keen on seeing scaly lizards or creepy crocs.
The carousel of images you see above are from the big cats and african safari sections! The giraffes get their own big image because they were my favourite animal exhibit of the lot. You can even see the city and the harbour bridge itself from where the giraffes are, how cool is that? It must be so convenient for the giraffes and their long necks; I'll bet they have a first-class view.
My second favourite exhibit would have been at the australian walkabout, where I got to see a group of quokkas! They are absolutely adorable. Embarrassingly enough, we weren't too sure if what we saw were quokkas at first as they were placed together with the red kangaroos, but my hunch was correct and we did get to see quokkas! :-) Had to zoom in a lot to get this, though!! BUT GAH. SO CUTE.
Photo spam of the other sections we visited - kid's trail, australian walkabout, and the seal walk! Ok not really a spam because I didn't take that many photos tbh... I'm more of the go there, look around for a while and then just move on kind haha. And take a few photos while I'm at it.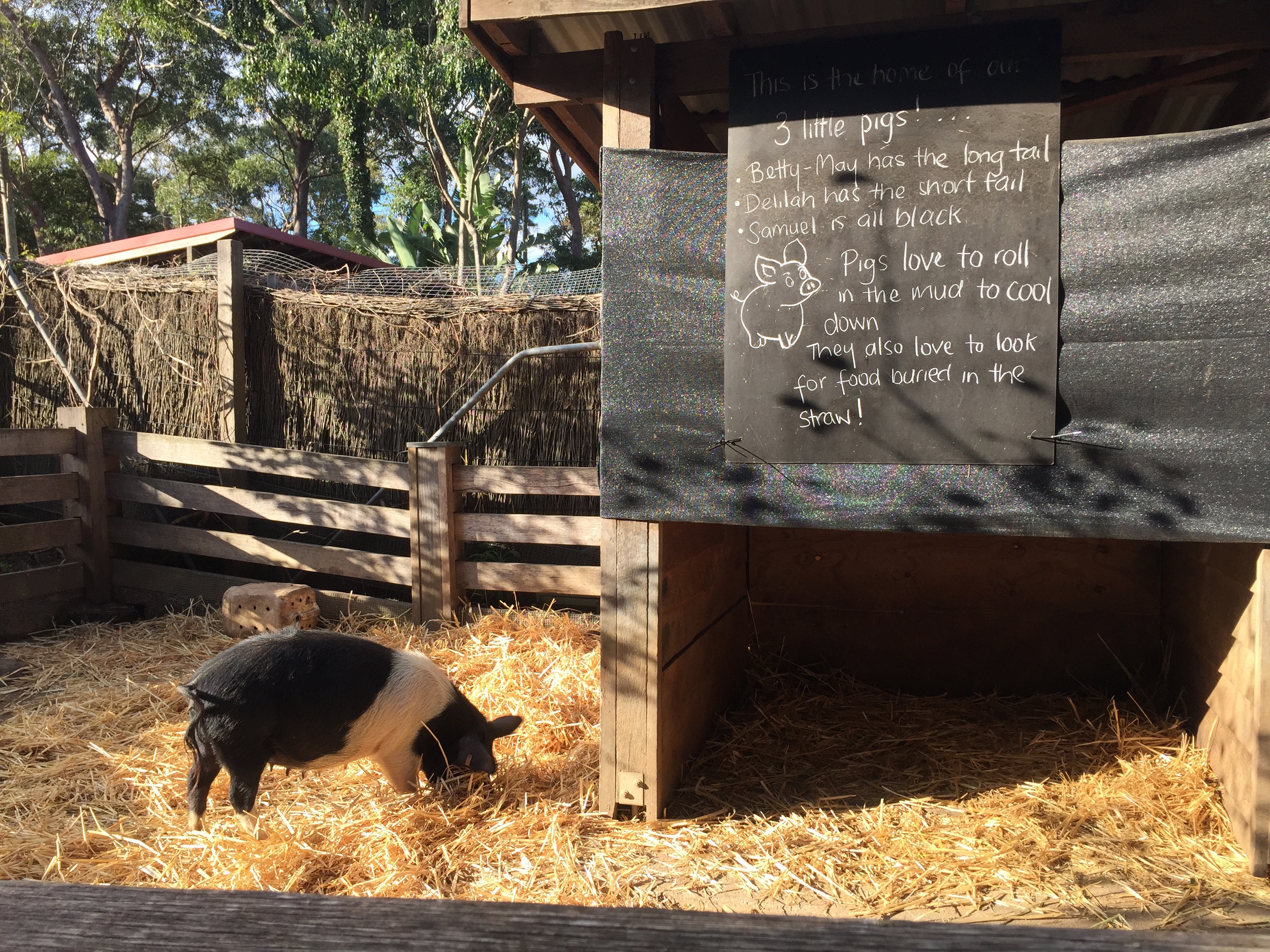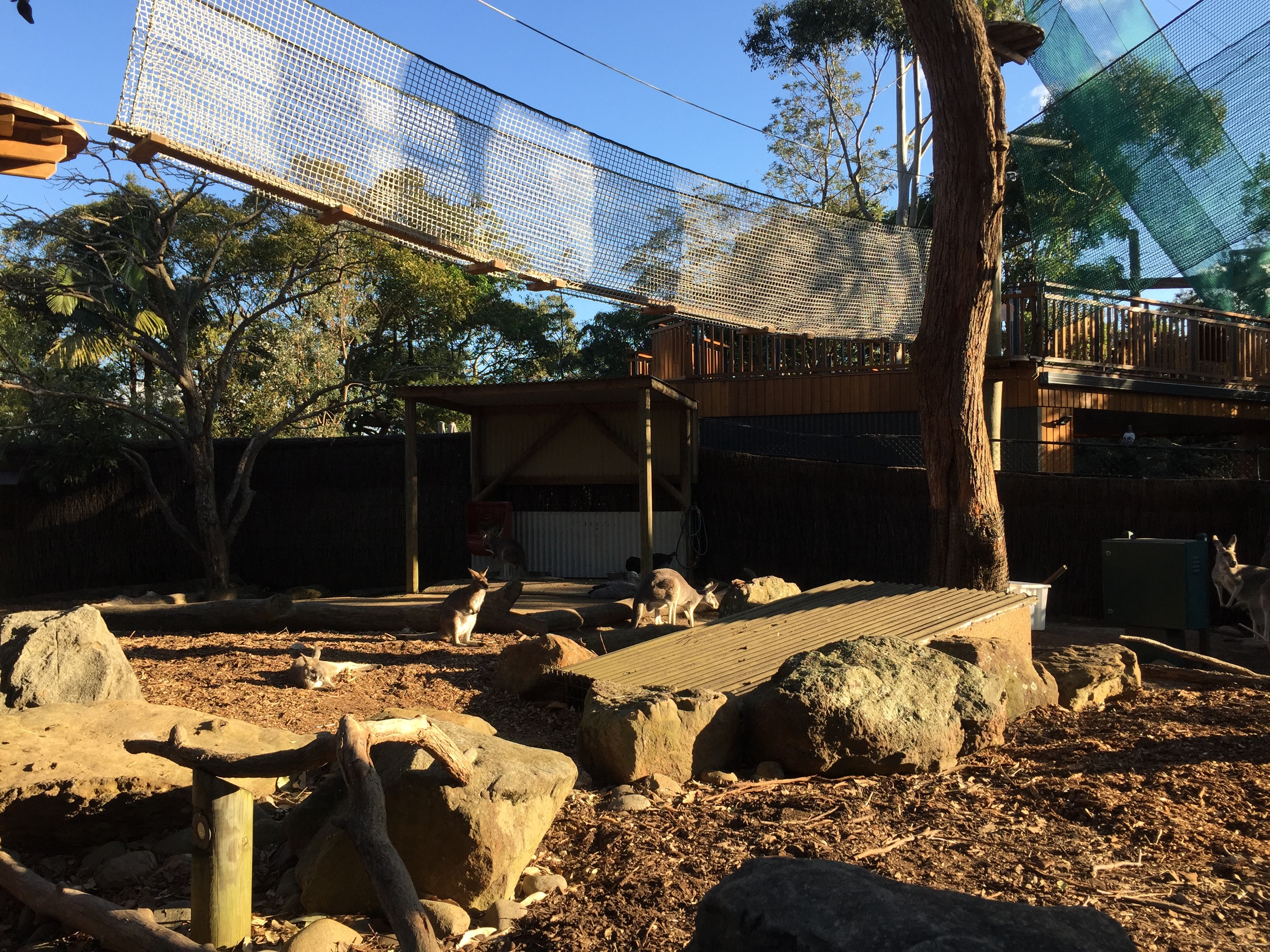 We covered the zoo in about two and a half hours, so we drove out to DFS Homebush to do a bit of outlet shopping. It was quite disappointing!! We couldn't really find any nice things as the prices weren't that fantastic and the nicer stuff were only available in size ten and above, which is too big for both of us. We did get Boost juice (after hunting for the first two days), though! And I bought an eyeliner pencil, which turned out to be the only purchase made amongst the four of us, making it (very slightly) less of a wasted trip.
Stace & Ryan went off to watch Les Mis at the Capitol Theatre (where I heard they scored tenth row seats for $45, which is great!) while Leonard & I went back to the apartment to chill (for me) and to do some work (for him). Though we pretty much just ended up watching Masterchef and ordering sushi for dinner off delivery hero - Australia's food panda! The ebi avocado unagi roll was great. Ending off with a picture of our sushi dinner, just because.
You can check out part one of my Sydney Travel Diary here!